About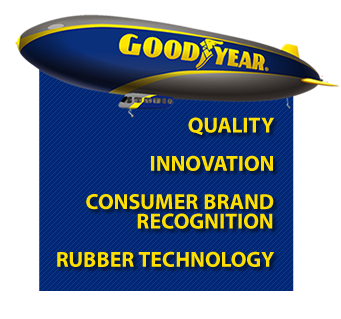 Experts in shoe products.
With more than 40 years manufacuring shoes and shoe components, Polyconix Corp. manufactures the highest quality repair trade products under the Goodyear brand. We are sure to offer innovation and creativity to our new products and always available to listen to you, our customers for new ideas.
How to buy Goodyear shoe products.
Goodyear shoe products are sold through a carefully selected network of national wholesalers. They carry complete lines of Goodyear products including soles, heels, half soles, and sheets that are important for their parts of the country.
If you are a consumer looking for Goodyear products, please request them from your local repair shop.
If you don't find the Goodyear shoe products you need please contact us and we will direct you to a wholesaler or repair shop who offers Goodyear.
Assurance premium products.
Assurance is the name of Goodyear premium performance tire. So it is that Goodyear shoe product launched a premium line of Assurance shoe products last year. Assurance shoe products are a cut above in every respect of performance over competitor products. Top lifts, sheets, newly designed full soles and half soles are all new to the line as well as the traditional products in this catalog. Please click here to learn more about these products.
Assurance is distributed through PREMIUM Goodyear wholesalers. If you are unable to find any Assurance product in your areas please E-mail or call us at (888) 467-5504 and we will provide you with the information you need.